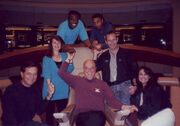 Timothy "Spike" McCormack is a Hollywood-based actor who appeared as regular background actor in the role of Ensign Bennett throughout the first four years on Star Trek: The Next Generation. McCormack was also the main stand-in for Data actor Brent Spiner. In addition, he portrayed a dead body in the fifth season episode "Ethics" in 1992.
Other stand-in work on Star Trek: TNG includes:
McCormack was also a regular background actor on the television series The Colbys (1985-1987, with Nana Visitor, Ricardo Montalban, Stephanie Beacham, and Tracy Scoggins). He appeared in the 1979 drama Gal Young 'Un and was featured in the Miami Vice episode "The Lost Madonna" (1989, directed by Chip Chalmers).
Appearances as Bennett
Edit
External link
Edit
Ad blocker interference detected!
Wikia is a free-to-use site that makes money from advertising. We have a modified experience for viewers using ad blockers

Wikia is not accessible if you've made further modifications. Remove the custom ad blocker rule(s) and the page will load as expected.