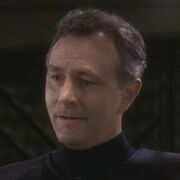 Tim Halligan played Farrakk in the Star Trek: Deep Space Nine episode "Business as Usual".
In the 1980s, he had a recurring role as Stanton on Crime Story. Bill Smitrovich was a regular on the show. He acted in the 2000 motion picture Space Cowboys, that also featured James Cromwell.
He has made guest appearances on many other popular shows, such as NYPD Blue, ER, The X-Files, Alias and Lost.
External links