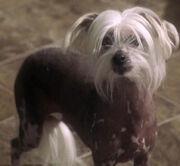 Tibbis is a Chinese Crested Dog who appeared as Rhylo, the pet of Dey Young's character Keyla Terrana in the Star Trek: Enterprise first season episode "Two Days and Two Nights" in 2002. Tibbis was like Prada, the dog who portrayed Porthos in this episode, trained by animal trainers Scott and Linda Rowe.
Tibbis previously worked with Prada on the movie Cats & Dogs in 2001, also trained by Scott and Linda Rowe.
Ad blocker interference detected!
Wikia is a free-to-use site that makes money from advertising. We have a modified experience for viewers using ad blockers

Wikia is not accessible if you've made further modifications. Remove the custom ad blocker rule(s) and the page will load as expected.