Ad blocker interference detected!
Wikia is a free-to-use site that makes money from advertising. We have a modified experience for viewers using ad blockers

Wikia is not accessible if you've made further modifications. Remove the custom ad blocker rule(s) and the page will load as expected.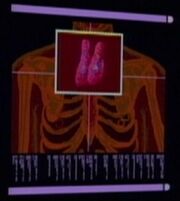 The thymus was a gland located in the upper chest of a Human body. It played an important role in the Human immune system.
The parasitic Tarchannen III species cells were located in the thymus after infecting a host, using the immune system to spread genetic instructions that would turn the host into a full member of the species.
Doctor Beverly Crusher successfully removed the parasite from Susanna Leijten's and Geordi La Forge's thymuses after they were infected by the lifeform. (TNG: "Identity Crisis")
External link
Edit