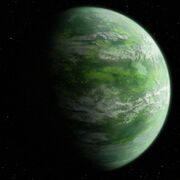 The Theta 116 system was a star system that had remained unmapped by the United Federation of Planets until 2365, containing at least eight planets.
In 2365, the scattered remains of the 21st century Earth spaceship Charybdis were discovered in orbit of Theta VIII in this system by a Klingon cruiser. Subsequently the USS Enterprise-D entered orbit to investigate. (TNG: "The Royale")
In the episode's script, Theta VIII was the furthest planet from its primary.

According to

Star Trek Maps (p. 30), the Theta VII colony was located around the star Theta. According to the FASA source book The Federation it was in the Theta Gamma system.
External link
Edit