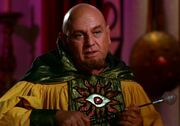 Theodore Carroll "Theo" Marcuse (2 August 1920 – 29 November 1967; age 47) began his television career in 1950, and a movie career five years later. Possessed of an expressive face and able to affect a sinister mien, he worked steadily from then until his death just over one month after his appearance as Korob. He died in a road accident in Hollywood. His last residence was in San Francisco, California.
Among his many television credits, Marcuse played one of The Riddler (Frank Gorshin)'s henchmen in two 1966 episodes of Batman, which also guest starred Sherry Jackson. The same year he also appeared in an episode of The Time Tunnel, starring James Darren, Lee Meriwether and Whit Bissell. Also in 1966, he guest starred with Sally Kellerman in an episode of I Spy. He also appeared in two episodes of The Twilight Zone, including the classic "To Serve Man", which also featured Dave Armstrong, Joseph Ruskin and James Wellman. In films, he appeared in Elvis Presley's Harum Scarum (1965), which also featured Michael Ansara and was directed by Gene Nelson.
Marcuse served as a Lieutenant in the United States Navy during World War II. [1]
Appearances
External link