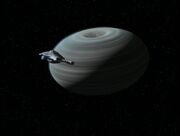 The Weird Planet Displaced in Time was the name of a report about Kelemane's planet, written by Naomi Wildman.
Alternate titles considered for the report were The Weird Planet Where Time Moved Very Fast And So Did The People Who Lived There and The Weird Planet. (VOY: "Blink of an Eye")
Ad blocker interference detected!
Wikia is a free-to-use site that makes money from advertising. We have a modified experience for viewers using ad blockers

Wikia is not accessible if you've made further modifications. Remove the custom ad blocker rule(s) and the page will load as expected.