"The Trouble With Bearclaw"
A USS Excelsior survey team encounters dangerous lifeforms on an unexplored planet.
Background information
Edit
Characters
Edit
Canon characters listed below are linked to the main article about them. Non-canon characters are not linked, but those that recurred, appearing or being mentioned in more than one story, are defined further in DC TOS volume 1 characters.

Ensign William Bearclaw

Konom

Commander Thimon

Lieutenant Jed

Tellarite Starfleet officer assigned to the Excelsior.

Lieutenant Hathaway

Excelsior crew-member

Bodine

Excelsior crew-member

alien ape-like anthropoids
References
Edit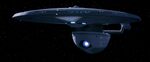 USS Sturgeon 

Miranda-class starship

Mumaw; Thasus; Beta III; Eminiar VII
Ad blocker interference detected!
Wikia is a free-to-use site that makes money from advertising. We have a modified experience for viewers using ad blockers

Wikia is not accessible if you've made further modifications. Remove the custom ad blocker rule(s) and the page will load as expected.