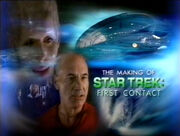 You may be looking for the reference book of the same name.
The Making of Star Trek: First Contact was a 25-minute television documentary which aired on the HBO television channel in the US in 1996.
This film was also broadcast in the UK as Star Trek Beyond First Contact and was given a new title card but still retained the original title on the program card that was used to frame the show's commercial breaks.
The film focused on behind-the-scenes footage and interviews with the cast and crew of Star Trek: First Contact and it discussed the Star Trek phenomenon and its popularity. It was first broadcast to commemorate Star Trek's 30th anniversary and to promote the feature film.
Ad blocker interference detected!
Wikia is a free-to-use site that makes money from advertising. We have a modified experience for viewers using ad blockers

Wikia is not accessible if you've made further modifications. Remove the custom ad blocker rule(s) and the page will load as expected.