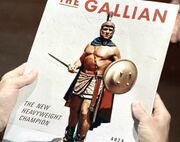 The Gallian was a magazine in circulation on planet 892-IV.
In 2268, Captain James T. Kirk and Commander Spock browsed through an issue of The Gallian, where they discovered several advertised items that were all named after Roman gods, such as Mars Toothpaste, Neptune Bath Salts, and the Jupiter 8 automobile. (TOS: "Bread and Circuses")
Ad blocker interference detected!
Wikia is a free-to-use site that makes money from advertising. We have a modified experience for viewers using ad blockers

Wikia is not accessible if you've made further modifications. Remove the custom ad blocker rule(s) and the page will load as expected.