Admiral Janeway and the former crew of the USS Voyager must stop a new Borg plague.
From the book jacket

When an unstoppable Borg plague breaks out upon Earth, blame quickly falls on the newly returned crew of the Starship Voyager. Did Kathryn Janeway and the others unknowingly carry this insidious infection back with them? Many in Starfleet think so, and Seven of Nine in particular, falls under a cloud of suspicion.
Now, with a little help from the Starship Enterprise, Admiral Janeway must reunite her crew in a desperate, last-ditch attempt to discover the true source of the contagion and save Earth itself from assimilation into a voracious new Borg Collective.
But time is running out.
Has Voyager come home only to witness humanity's end?
Excerpts of copyrighted sources are included for review purposes only, without any intention of infringement.
Characters
Edit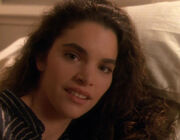 Harry's fiancée. Agent working for Starfleet Intelligence.

Kenneth Montgomery 

Starfleet admiral.
Tuvok's son.

Aiden Fletcher 

agent of Starfleet Intelligence

Brenna Covington 

Corrupt Starfleet Intelligence Director, and aspiring Borg Queen.

Mark Johnson 

Kathryn Janeways ex-fiance.

Carla Johnson 

Mark's wife.

Kevin Johnson 

Mark and Carla's son.
References
Edit
Ad blocker interference detected!
Wikia is a free-to-use site that makes money from advertising. We have a modified experience for viewers using ad blockers

Wikia is not accessible if you've made further modifications. Remove the custom ad blocker rule(s) and the page will load as expected.