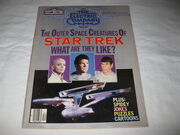 The Electric Company Magazine was an educational children's magazine published as a complement to the Children's Television Workshop television series, The Electric Company. The magazine was published from 1972 through 1987. It was targeted as the next step up from Sesame Street Magazine; a banner on each cover said, "For Graduates of Sesame Street".
Star Trek appeared on the covers of issues #61 and #86, both of which are Star Trek-themed issues published January 1980 and June 1982 respectively.
Ad blocker interference detected!
Wikia is a free-to-use site that makes money from advertising. We have a modified experience for viewers using ad blockers

Wikia is not accessible if you've made further modifications. Remove the custom ad blocker rule(s) and the page will load as expected.