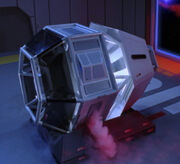 "The Egg" was the name of an advanced probe, designed during the 24th century by Doctor Paul Stubbs. Its purpose was to study a neutron star/red giant star system in the Kavis Alpha sector.
In 2366, "the Egg" was launched (or "laid"), by the USS Enterprise-D, to study the phenomenon of the neutron star exploding every 196 years. The experiment almost didn't happen, because of an accident involving advanced nanites that Wesley Crusher was working on at the time. (TNG: "Evolution")
A graphic of the probe was displayed in Captain Jean-Luc Picard's quarters in early 2367. (TNG: "Family")
A similar probe was displayed on the master systems display in main engineering aboard the Enterprise-D; it was located in the main shuttlebay. (TNG: "The Mind's Eye")
Ad blocker interference detected!
Wikia is a free-to-use site that makes money from advertising. We have a modified experience for viewers using ad blockers

Wikia is not accessible if you've made further modifications. Remove the custom ad blocker rule(s) and the page will load as expected.