The Enterprise is caught between its own survival – and the destruction of an innocent, isolated world!
The Abode of Life is a Pocket TOS novel – #6 in the numbered series – written by Lee Correy. Published by Pocket Books, it was first released in April 1982.
Background information
Edit
Characters
Edit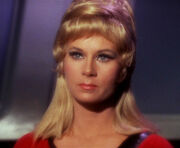 References
Edit
External links
Edit
Ad blocker interference detected!
Wikia is a free-to-use site that makes money from advertising. We have a modified experience for viewers using ad blockers

Wikia is not accessible if you've made further modifications. Remove the custom ad blocker rule(s) and the page will load as expected.