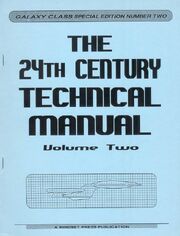 The The 24th Century Technical Manual is a two-volume unauthorized production, published in 1989 and 1990. But unlike other fan productions of the era it neither contains fan fiction nor fan art, but rather a collection of graphical behind-the-scenes production material produced by Andrew Probert, Rick Sternbach and Michael Okuda without further commentary. Material, covering the first three seasons of Star Trek: The Next Generation, was provided by fans and collectors who themselves obtained it from the production staff. Being a special edition of the fanzine Galaxy Class, the quality of the publication was reflected as such, photo copied in black and white and side-stapled (though a "Deluxe", plastic spiral comb-bound, edition was available). As the disclaimer stated, the publication "is published as a "not-for-profit" means of communication between fans of the television series "Star Trek The Next Generation", it is not intended as a merchandising endeavor." Still, it ranks amongst the earliest collections of production materials accessible to the general public before officially licensed material became available, starting with Star Trek: The Next Generation Technical Manual a year later.
Contents
Both volumes organized the material in four sections:
Section One: "Ships"
Section Two: "Props and Equipment"
Section Three: "Displays and Instruments"
Section Four: "Miscellaneous and Behind the Scenes"
Noteworthy sections
Volume one contains in section four black and white photographs, taken by Greg Stone of the build-up of the original Borg cube as well as photos of the completed maquette of the engine room of the IKS Pagh, slated to appear in TNG: "A Matter Of Honor" in a scene showing the subatomic bacteria eating through the hull, before that scene was cut at the last moment.