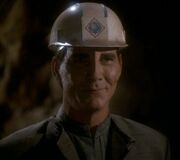 Thadial Bokar was a high-ranking Farian in the Orion Syndicate.
In 2375, he visited New Sydney under the guise of a "commodities broker". He informed Janel Tigan that if Miles O'Brien kept investigating the death of Morica Bilby, his life could be in danger.
Bokar was the Tigan's contact with the Orion Syndicate, assisting the Syndicate in their business dealings with the Tigan family. Morica was on the Tigan payroll as a favor to Bokar and the Syndicate, which bailed the mining company out of a financial crisis. (DS9: "Prodigal Daughter")
Ad blocker interference detected!
Wikia is a free-to-use site that makes money from advertising. We have a modified experience for viewers using ad blockers

Wikia is not accessible if you've made further modifications. Remove the custom ad blocker rule(s) and the page will load as expected.