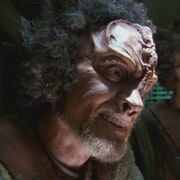 Terry Lester (13 April 1950 – 28 November 2003; age 53) was the actor who played Haron in the Star Trek: Voyager episode "Maneuvers".
Lester was best known for his role of Jack Abbott (1980-1989) on The Young and the Restless, for which he won four consecutive Emmy nominations (1984-1987) for Outstanding Lead Actor. He also played a lead character of the 1970s Saturday morning children's show Ark II, produced by Lou Scheimer, which dealt with an eco-ravaged post-apocalyptic future.
He died on November 28, 2003 of a heart attack.
External links
Edit