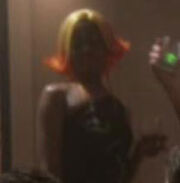 Terita Jackson is an actress who appeared as a recurring background actress in Star Trek: Enterprise. Her first role was a Risian nightclub patron in the first season episode "Two Days and Two Nights" in 2002. For this episode, Jackson filmed her scenes on Wednesday 27 March 2002 on Paramount Stage 9. Her command division uniform was later sold off on the It's A Wrap! sale and auction on eBay. [1]
As an actress, Jackson can be seen in the crime comedy Stealing Harvard (2002, with Seymour Cassel and Jeanette Miller), the comedy Who's Your Daddy? (2004), and the short films GoodBye misty Love (2007) and GoodBye Misty Love: Chapter Two (2008). Following her work on Star Trek, she married and worked as Terita Jackson-Malone on television series such as Will & Grace, The Parkers, and Girlfriends as well as on several fashion shows.
External link
Edit
Ad blocker interference detected!
Wikia is a free-to-use site that makes money from advertising. We have a modified experience for viewers using ad blockers

Wikia is not accessible if you've made further modifications. Remove the custom ad blocker rule(s) and the page will load as expected.