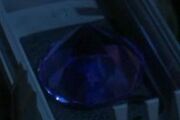 A Tenebian amethyst was a highly valuable gemstone.
In 2161, Thy'lek Shran was accused by some former associates of his that he had stolen a valued Tenebian amethyst. He came to Enterprise for help when they kidnapped his daughter, Talla, until he returned it. T'Pol was able to manufacture a very realistic fake, that they'd never be able to identify.
Shran and T'Pol went to Rigel X to exchange the amethyst for Talla. The exchange was successful, as the fake amethyst actually contained a strobing light that would stun anyone looking directly at it, which gave Enterprise's MACOs time to attempt to capture the pirates. (ENT: "These Are the Voyages...")
In the final draft script of "These Are the Voyages...", the fake Tenebian amethyst in that episode was stated to be "blue, golfball-sized".
See also
Edit
Ad blocker interference detected!
Wikia is a free-to-use site that makes money from advertising. We have a modified experience for viewers using ad blockers

Wikia is not accessible if you've made further modifications. Remove the custom ad blocker rule(s) and the page will load as expected.