Ad blocker interference detected!
Wikia is a free-to-use site that makes money from advertising. We have a modified experience for viewers using ad blockers

Wikia is not accessible if you've made further modifications. Remove the custom ad blocker rule(s) and the page will load as expected.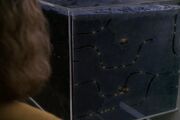 The Teirenian ant was an insect similar to the Terran ant. A fluorescent enzyme was produced by the Tairenian ant drones and activated by their queen.
At the first Annual Voyager Science Fair on the USS Voyager, in 2376, Mezoti presented a transparent box containing soil and a colony of luminescent Teirenian ants. She had infused the soil with a blue ion dye so the insects would be easier to see. (VOY: "Child's Play")