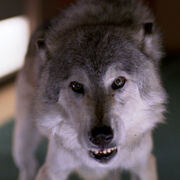 Teddy is one of the two wolves who appeared as the wolf in the Star Trek: The Next Generation seventh season episode "Dark Page" in 1993. The other wolf was Buck. They were trained by Rob Bloch, Chris Edrington, and Bobbi Edrington of Critters of the Cinema.
Teddy and Buck previously appeared as the wolf "Two Socks" in the 1990 Academy Award winning drama Dances with Wolves.
Ad blocker interference detected!
Wikia is a free-to-use site that makes money from advertising. We have a modified experience for viewers using ad blockers

Wikia is not accessible if you've made further modifications. Remove the custom ad blocker rule(s) and the page will load as expected.