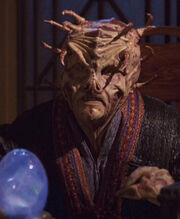 Tarquin's homeworld was a planet about thirty light years from Tarquin's planet. It was described as "a wonderful place to live."
One in every fifty million inhabitants of the planet was born with telepathic abilities. This gift was considered dangerous, as telepaths were seen to be a threat to the rest of the population. They were exiled to other planets to live out their lives in isolation, as Tarquin was condemned to his lonely planet. (ENT: "Exile")
At least one of this species had left the homeworld by 2154, though he had had the misfortune to be captured by Orion Syndicate slavers in the Borderland. (ENT: "Borderland")
Ad blocker interference detected!
Wikia is a free-to-use site that makes money from advertising. We have a modified experience for viewers using ad blockers

Wikia is not accessible if you've made further modifications. Remove the custom ad blocker rule(s) and the page will load as expected.