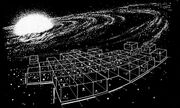 Talos III was the third planet of the Talosian system located in the Talos star group within the Alpha Quadrant. It had a ring system but no moons.
The planet was located 2.5 astronomical units from the binary stars of Talos A and Talos B. Sometime before stardate 8130, materials from Talos III were sent in a container to Regula. (TOS: "The Cage", "The Menagerie, Part I"; Star Trek II: The Wrath of Khan; Star Trek VI: The Undiscovered Country, production art)
Background
The planet was never mentioned in dialog; this name came from a map of the Talosian system. Talos III was identified again on a blue cargo-container tube seen in The Wrath of Khan. In "The Explored Galaxy" the location of Talos was depicted between the Tholian Assembly and Romulus. Both locations were identified in DS9: "Call to Arms" as being located in the Alpha Quadrant.
According to Star Trek: Star Charts, Talos III was a L-class planet. In 2378, Talos III was located in or near Federation space, in the Alpha Quadrant. (Pgs. 40-41, "United Federation of Planets III")