Ad blocker interference detected!
Wikia is a free-to-use site that makes money from advertising. We have a modified experience for viewers using ad blockers

Wikia is not accessible if you've made further modifications. Remove the custom ad blocker rule(s) and the page will load as expected.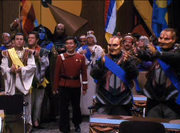 This was added to the article, apparently at a size larger than it really is, to show "blocking artifacts". If that's just poor quality, since I'm not seeing anything "more" beyond that, then do we really need this image at all, especially in the PNG format? - Archduk3 09:32, June 1, 2012 (UTC)
Malaysian VCD Collection
Edit
The other day I came across something called "The Star Trek Collection", a box set featuring the first seven movies in VCD format. It's hard to find info on the set and I'm not 100% sure if it's legit. - – The preceding unsigned comment was added by StalwartUK (talk • contribs).
Considering how hard it is to find info in English on some of these, I tend to treat these as legit unless I find something to suggest it isn't. I figure worst case if we add it is we have to delete it, worse case we don't add it we never find this info again. -

Archduk

3

02:17, January 30, 2013 (UTC)