Ad blocker interference detected!
Wikia is a free-to-use site that makes money from advertising. We have a modified experience for viewers using ad blockers

Wikia is not accessible if you've made further modifications. Remove the custom ad blocker rule(s) and the page will load as expected.
When was it stated that he was a member of the Kohn-Ma? I don't remember that in the episode, can't find it in the script, etc. --OuroborosCobra talk 06:13, 17 June 2008 (UTC)
The background note talks about Ren & Stimpy, not Kohn-Ma. I didn't read this article clearly enough on what it says in wording on Kohn-Ma partly because I was led here from Kohn-Ma, where it flat out says "he was a secret member of the Kohn-Ma. The background note makes no mention of connection to Kohn-Ma, the other article is definitely wrong. I'd like a screenshot of the okudagram, if possible, since there are definitely some problems here. --OuroborosCobra talk 06:26, 17 June 2008 (UTC)
---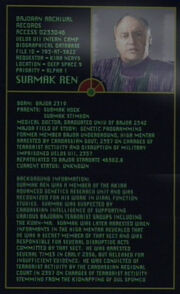 Bajoran Archival Records
Access 0233046
Biographical Database
File 10 • 783-RT-3822
Requestor [sic] • Kira Nerys
Location • Deep Space 9
Priority • Alpha 1
SURMAK REN
BACKGROUND INFORMATION
Surmak Ren was a member of the Akira Advanced Genetics Research Unit and was recognized for his work in viral function studies. Surmak was suspected by Cardassian Intelligence of supporting various Bajoran terrorist groups including the Kohn-Ma. Surmak was later arrested when informants in the Higa Metar revealed that he was a secret member of that sect and was responsible for several disruptive acts committed by that sect. He was arrested several times in early 2356, but released for insufficient evidence. He was convicted of terrorist activity by the Cardassian Regional Court in 2357 on charges of terrorist activity stemming from the kidnapping of Gul Spumco.
---
Expanded. Also, a little deductive reasoning helps too in identifying the source... :) Regardless, the page needs to be reorganized perhaps using the okudagram as a "history" section on the individual, and the actual episodic events as the post-history section. As it stands, the article is written upside-down. --Alan 17:14, 17 June 2008 (UTC)