Ad blocker interference detected!
Wikia is a free-to-use site that makes money from advertising. We have a modified experience for viewers using ad blockers

Wikia is not accessible if you've made further modifications. Remove the custom ad blocker rule(s) and the page will load as expected.
The armless, but not
Edit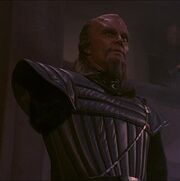 According to direct quote taken from Charting the Undiscovered Country: The Making of Trek VI:
"We did one blowaway arm on General Stex, and we had to make a casting of his arm and design a rig that blows off because he has his arm blown off," said special effects make-up artist and designer Richard Snell."
Interestingly the make-up guy goes as far as to specifically describe this guy pictured by name as Stex, vs. NC Klingon #9 or whatnot. I wonder if this might be another case of combining the role of two actors (Clifford Shegog and Brett Porter) into one character (like the case with Michael Jace and Sandra Grando)... --Alan 21:40, 3 July 2009 (UTC)
if you read "he doesn't speak", so you can see him in movie, so where is his picture !!!??? C-IMZADI-4 12:39, January 17, 2010 (UTC)
No idea what you are saying? --Alan 15:13, January 17, 2010 (UTC)
Ending this discussion
Edit
According to the call sheets I've made the appropriate changes and identified Stex, played by Brett Porter. He is the one-armed-Klingon. The Klingon which was previously listed as being played by Porter is played by Clifford Shegog. – Tom 04:17, March 8, 2010 (UTC)