I've removed the following: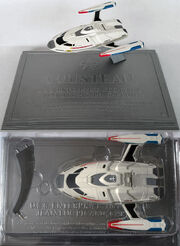 A number of limited edition
starship
replicas including the
Captain's yacht
"
Cousteau
" and the
Vulcan
ship from
Star Trek: First Contact
were released by
John Eaves
and the fan club, in conjunction with the magazine. Along with a
Deep Space 9
replica, they have become much sought-after collectors' items.
for the following reasons:
Ad blocker interference detected!
Wikia is a free-to-use site that makes money from advertising. We have a modified experience for viewers using ad blockers

Wikia is not accessible if you've made further modifications. Remove the custom ad blocker rule(s) and the page will load as expected.