Here's the text that is displayed on the USS Enterprise-B's science officer's screen: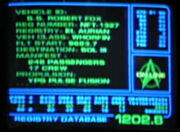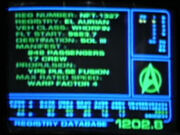 VEHICLE ID:

S.S. ROBERT FOX

REG NUMBER: NFT-1327
REGISTRY: EL-AURIAN
VEH CLASS: WHORFIN
FLT START: 9683.7
DESTINATION: SOL III
MANIFEST:

248 PASSENGERS
17 CREW

PROPULSION:
MAX RATED SPEED:
--Jörg 11:29, 7 September 2006 (UTC)
Ad blocker interference detected!
Wikia is a free-to-use site that makes money from advertising. We have a modified experience for viewers using ad blockers

Wikia is not accessible if you've made further modifications. Remove the custom ad blocker rule(s) and the page will load as expected.