Ad blocker interference detected!
Wikia is a free-to-use site that makes money from advertising. We have a modified experience for viewers using ad blockers

Wikia is not accessible if you've made further modifications. Remove the custom ad blocker rule(s) and the page will load as expected.
Here are the three views of the Conestoga that are actually seen in the episode. Pretty small, I know, but that is all we get to see IN the episode. --Jörg 14:37, 18 March 2007 (UTC)
---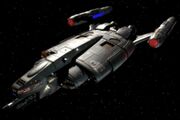 This image is okay to use, but I think it would be best if presented as a "background" image. Currently there is no background on this or the Conestoga type page. So pending some further research, there should be no problem readding it. --Alan 08:10, 24 May 2007 (UTC)
Conestoga type merge?
Edit
IMO this page should be merged with the SS Conestoga page and deleted. There is no evidence there were more than this one ship constructed for this one mission. We don't even list the Conestoga as a Conestoga-type ship. Similarly there is no Valiant-type, or Phoenix-type articles, there shouldn't be a page like this. --Pseudohuman 13:38, 14 June 2008 (UTC)
Makes sense, I guess. --Alan 05:50, 1 January 2009 (UTC)