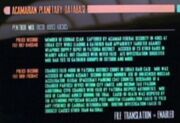 Here's a screencap of Penthor-Mul's police file, maybe we can find out what other crimes he commited before he was murdered by Yuta:
ACAMARIAN PLANETARY DATABASE
PENTHOR MUL
POLICE RECORD
FILE 867 - 643343:
MEMBER OF THE LORNAK CLAN. CAPTURED BY ACAMAR INTERNAL SECURITY ON 48XX AT
LORNAK CITY WHEN LEADING A GATHERER RAID APPARENTLY TARGETING AGAINST
WEAPONS SUPPLY DEPOT ON TATXXX DISTRICT. ACCUSED OF 23 XXX RAIDS IN
NEARBY AREAS XXX XXX XXX XXX XXX. XXX XXX XXX
MUL HAS XXX TO GATHERER GROUPS IN XXX AND XXX.
POLICE RECORD
FILE XXX - XXX:
XXX...
Ad blocker interference detected!
Wikia is a free-to-use site that makes money from advertising. We have a modified experience for viewers using ad blockers

Wikia is not accessible if you've made further modifications. Remove the custom ad blocker rule(s) and the page will load as expected.