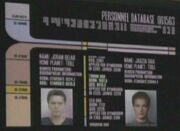 Some bits of information about Lela's life can be seen on a viewscreen in "Equilibrium". These pieces of information however seem to conflict with later introduced data about her. According to the viewscreen, she was born in
2112
, applied for joining in
2166
and was joined in
2168
. She died in
2228
after which Joran and then Curzon was joined.
The viewscreen implies that Lela was not the first host, but the host preceding Joran and Curzon, taking Torias Dax's place. It also states that the host preceding Lela was a "Whorfin Dax"
Ad blocker interference detected!
Wikia is a free-to-use site that makes money from advertising. We have a modified experience for viewers using ad blockers

Wikia is not accessible if you've made further modifications. Remove the custom ad blocker rule(s) and the page will load as expected.