It says Fair Haven takes place in 19th Century Ireland but on one episode, Tom Paris drives a primitive horseless carriage across town, hits a crate, and the wheel gets severed from it. As soon as he repairs it just by giving the computer a command, a townsman witnesses this and says "Saints preserve us!"
But a car in the 19th Century? Nah, it should say early 20th, say, in no later than 1905 perhaps? --72.205.241.187 05:19, 21 November 2006 (UTC)
Location
Edit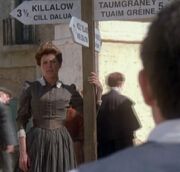 For everyone wondering where exactly Fair Haven is located, this image might help pinpointing it. --Jörg 14:07, 26 December 2006 (UTC)
"The Irish seacoast (facing an ocean) was apparently part of the program, suggesting a coastal location." - As do the words "haven" (meaning a harbour) and "cuan" (which usually means a "bay" in Irish). -80.193.154.22 15:43, April 27, 2016 (UTC)
Ad blocker interference detected!
Wikia is a free-to-use site that makes money from advertising. We have a modified experience for viewers using ad blockers

Wikia is not accessible if you've made further modifications. Remove the custom ad blocker rule(s) and the page will load as expected.