Okudagram content
Edit
Three different graphics of the anomaly are seen in this episode. It seems the corresponding text does make sense this time, no "Dirty Pair" references in this graphic, it seems. Here's what I was able to make out:
Scan – Local temporal continuum anomaly E347
Tao factor - Variable [approaching 2,45 x 10E 5 PFM]
Proton decay timebase ref – Ln A – System diagnostics indicate probable (XXX)
Quasar pulserate ref – Analysis [rest approximation] – E26 – X,XX x 10E 2
Scan – Local temporal continuum anomaly E347
Effective radiated subspace field power – 5,23 x 10E 34 XXX parsec
Net vehicular structure torque [XXX vectors] – 2,38 x 10E X7 dynes XX
CapXan lactaXe output – X,XX x 10E 7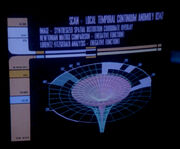 Scan – Local temporal continuum anomaly E347
Image – Synthesized spatial distortion XXXX overlay
Newtonian matrix comparison – (negative function)
Lorentz-Fitzgerald analysis – (negative function)
Can you help? --Jörg 13:15, 22 October 2006 (UTC)
Upon rewriting this article, it occurs to me that it should probably be moved to "local temporal continuum anomaly," as that was the technical term used in the Okudagrams, and "energy vortex" was simply a term used to describe it, and isn't very technical. Thoughts? -Angry Future Romulan 15:43, July 20, 2010 (UTC)
Personally, I'd rather use the term spoken in the episode, especially if it was repeatedly, than one barely seen on an okudagram. --OuroborosCobra

talk

16:50, July 20, 2010 (UTC)
Ad blocker interference detected!
Wikia is a free-to-use site that makes money from advertising. We have a modified experience for viewers using ad blockers

Wikia is not accessible if you've made further modifications. Remove the custom ad blocker rule(s) and the page will load as expected.