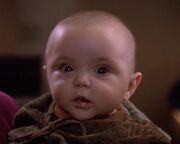 The Tadeski twins portrayed the infant Molly O'Brien in the 1991 Star Trek: The Next Generation episodes "Disaster" and "Power Play". The call sheets for the episodes are listing them only as "Tadeski twins". They appeared in several scenes with their film mother Rosalind Chao on the sets of Ten Forward and the sickbay. For "Disaster" they filmed their scenes on Friday 16 August 1991 on Paramount Stage 8 and for "Power Play" they filmed their scenes between 2 December 1991 and 11 December 1991. For some scenes they were replaced by a "baby dummy".
Ad blocker interference detected!
Wikia is a free-to-use site that makes money from advertising. We have a modified experience for viewers using ad blockers

Wikia is not accessible if you've made further modifications. Remove the custom ad blocker rule(s) and the page will load as expected.