HD DVD release
Series:
TOS-R
Season:
One
No. of episodes:
29
No. of discs:
10
8 (region 2 slimline)
Release date:
20 November 2007
Region 2 release date:
19 November 2007
27 April 2009 - DVD only (re-released)
Rating(s):
Reference:

ASIN B000VDDDY6

(region 1)


ASIN B000V0NHEA

(region 2)


ASIN B001S3GDTK

(region 2 slimline)
Year:
2265-2267

Region 2 cover

Region 2 slimline cover
Template:Disambiguate
---
Star Trek: The Original Series - Season One Remastered is a combination HD DVD/DVD release of the remastered Original Series - the dual-sided discs contain HD DVD content on one side, standard DVD content on the other. The episodes are presented in airing order, rather than production order, as has been the custom in previous releases.
The size of this package is almost identical to the prior DVD release. The box also contains 5 "Special Collector Data Cards" describing the contents of each disc.
A slimline Region 2 re-release in DVD format was released on 27 April 2009.
Episodes
Contents
Production order

| Disc | Episode |
| --- | --- |
| 1 | |
| 2 | |
| 3 | |
| 4 | |
| 5 | |
| 6 | |
| 7 | |
| 8 | |
| 9 | |
| 10 | HD DVD Special Features |
↑

"The Cage" is on Disc 7 of the Season 3 boxset
Special Features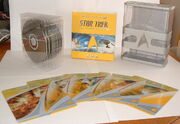 Starfleet Access (HD DVD only)
Interactive Enterprise Inspection (HD DVD only)

A simulation where the viewer is in the shuttlecraft Jefferies outside of the Enterprise, and can view video and audio describing the various parts of the ship.

Spacelift: Transporting Trek Into the 21st Century

A 20 minute documentary on the remastering process.

Billy Blackburn's Treasure Chest: Rare Home Movies and Special Memories
Birth of a Timeless Legacy (DVD only)
Reflections on Spock (DVD only)

Leonard Nimoy takes 12 minutes to discuss the character and his book I Am Not Spock.

Life Beyond Trek: William Shatner (DVD only)

William Shatner spends 10 minutes discussing his love of horses.

To Boldly Go ... Season One (DVD only)
Sci-Fi Visionaries (DVD only)

A 16 minute interview with Robert Justman and Dorothy Fontana discussing the efforts to hire science fiction authors to give the show some literary depth.

Kiss 'n' Tell: Romance in the 23rd Century (DVD only)

An 8 minute montage of clips and interviews discussion the love interests in the series and films.

Trekker Connections (DVD only)

A small series of "six degrees of separation" bits connecting the actors in a game format.

Star Trek: Beyond the Final Frontier (DVD only)
Star Trek Online game preview (DVD only)

A 3 minute look at the upcoming game.
Followup Releases
The second and third seasons of the remastered version of Star Trek: The Original Series were originally announced for release in 2008 on the same combination HD DVD/DVD format as the first season.
Season two was set for a 25 March 2008 release. However, in early December 2007, it was removed from the schedule, and was tentatively rescheduled for the summer of 2008. [1]
With Toshiba announcing their withdrawal from the HD DVD market on 19 February 2008, these releases were canceled completely. [2]
Seasons two and three eventually saw release on DVD. In 2009 Season 1 was re-released as a DVD only edition.