Star Trek: The Next Generation - The Complete Series is a DVD box-set of all 7 seasons of TNG, released in 2007 to coincide with the series' 20th Anniversary. It contains all the original discs from the previous TNG individual season box-set releases, plus a brand new bonus disc. It was released on Region 1 and 2.
This was the third time the entire series was packaged together in one DVD box-set. The first was the Region 2 exclusive Borg Mega Cube in 2003. The second was the Seasons 1-7 boxset, which was released on Region 1 and 2 in 2004.
Contents
The episodes on the discs, and their arrangement among them, are identical to the TNG season box-sets (including the Best Buy exclusive discs). There is also an additional disc for more special features.
Please refer to the following pages for the first 48 discs' episode arrangement.
Additional disc
The bonus disc includes the following special features:
"The Next Generation's Impact: 20 Years Later" (27 minutes, directed by Stephen R. Wolcott, hosted by John de Lancie)
-Interviewees:
"The Next Generation's Legacy: 2007" (26 minutes, directed by Stephen R. Wolcott)
-Interviewees:

Helen Greiner
Rick Homans
Steve Jordan
Jonathan Klein
Therese Littleton
Donald Marinelli
Matthew T. Mason
James Rosenthal
Angelle Tanner
Gordon Wolfe

"Star Trek Visual Effects Magic: A Roundtable Discussion" (25 minutes, directed by Stephen R. Wolcott)
-Interviewees:
External links
Packaging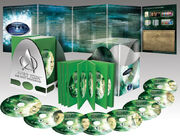 Both the Region 1 and 2 releases feature identical packaging and contents.
The 49 DVDs are spread across three sets of double-sided green disc trays stacked together, and joined by an adhesive strip down one edge of each stack. This differs from the other versions of TNG's complete series box-sets in that it does not group each season together separately. The three sets of DVD stacks are encased in a cardboard tray and plastic slip cover. A small folded information sheet is included with trivia and season information. A full episode breakdown is not included, but the episode titles are printed on the discs. Booklets from previous releases of the individual seasons are not included.