Ad blocker interference detected!
Wikia is a free-to-use site that makes money from advertising. We have a modified experience for viewers using ad blockers

Wikia is not accessible if you've made further modifications. Remove the custom ad blocker rule(s) and the page will load as expected.
Syl was an alien ensign serving aboard the USS Enterprise in the 2260s. She had multiple cranial appendages.
When Krall attacked the Enterprise in 2263 to acquire a piece of a weapon called the Abronath, Captain James T. Kirk found Syl and charged her with hiding the artifact, which Syl did by placing it within the clutch of her cranial appendages. Syl was subsequently captured by Krall's drones and imprisoned at his base alongside other Enterprise crewmembers.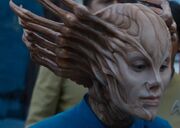 After Krall publicly threatened to drain Hikaru Sulu's life unless he obtained the Abronath piece, Syl surrendered it despite Sulu repeatedly objecting. Later, Krall unleashed the Abronath on Syl as a demonstration of its power to Nyota Uhura. The weapon painfully disintegrated Syl's entire body. (Star Trek Beyond)