Ad blocker interference detected!
Wikia is a free-to-use site that makes money from advertising. We have a modified experience for viewers using ad blockers

Wikia is not accessible if you've made further modifications. Remove the custom ad blocker rule(s) and the page will load as expected.
Swarm ships were small, two-person craft left in large numbers on Altamid by the planet's original inhabitants sometime prior to the 2160s.
Following the crash of the USS Franklin in the 22nd century, these craft were employed by Krall to waylay orbiting starships. Jaylah likened Krall's swarm ships to bees.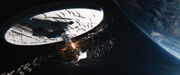 In the year 2263, Krall used his swarm to attack the Federation starship USS Enterprise under the command of Captain James T. Kirk. Approaching the Enterprise in orbit of Altamid, these ships initially appeared to be one large vessel, emitting an unidentifiable signal, but quickly separated and attacked in a coordinated effort to disable the Constitution-class ship. Surrounding and ramming it repeatedly, these ships inflicted serious damage on the Enterprise, first severing its warp nacelles before finally separating its primary hull from its secondary hull.
Following the destruction of the Enterprise, Commander Spock and Doctor Leonard McCoy commandeered one of these ships and crash landed on the surface of Altamid.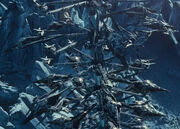 Krall later used his ships to attack the Federation Starbase Yorktown in a massive assault. Utilizing antique equipment aboard the century-old USS Franklin, the Enterprise crew was able to identify the swarm ships' signals as closed networked cyberpathic communications that allowed them to coordinate their maneuvers. Emitting VHF radio signals in the form of "classical" music by the Beastie Boys, the Franklin flew very near to Krall's ships, causing a chain reaction that destroyed the swarm.
Once again flying a commandeered swarm ship, Spock and McCoy assisted James Kirk in defeating Krall within the Starbase Yorktown before Krall could unleash a super weapon and kill the base's inhabitants. (Star Trek Beyond)
Technical data
Edit
Swarm ships were capable of space and atmospheric flight, and were equipped with warp drive. They were piloted by two drones and, when not in use, docked in tree-like formations at towers on the surface of Altamid. The ship is accessible through a circular hatch in the rear.
Though apparently lacking weaponry, Swarm ships were durable enough to inflict heavy damage on other ships by ramming them. When colliding with another ship, a Swarm ship could elect to penetrate only partway and deploy its lateral prongs to anchor itself; the nose of the ship could then split open to release drones inside the target vessel. Swarm ships were susceptible to phasers, but operate in such large numbers that phaser fire was overall ineffective against them. They were too small and nimble to be effectively targeted by photon torpedoes. (Star Trek Beyond)
Appendices
Edit
Appearances
Edit
Background information
Edit
The ships were named "Krall swarm ships" in a Popular Mechanics cutaway diagram of the Enterprise.
In the first trailer for
Star Trek Beyond
released
14 December
2015
, Krall's swarm ships appear maroon in color, however in the second trailer released
20 May
2016
they appeared dark gray or black in color as they do in the finished film.
[1]