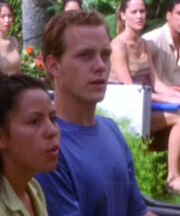 Sven Erik Lindstrom is an actor who appeared as a linguistic student in the Star Trek: Enterprise pilot episode "Broken Bow". He received no credit for this appearance and was identified by the call sheet for this day. Lindstrom filmed his scene on location in Malibu on 19 June 2001.
In 1999 he had a featured part in the comedy Starry Night along Trek performers Lou Wagner, Stefan Gierasch, and Stephanie Erb, followed by a portrayal of Alfred Hitchcock in the 2000 short film Marty and Virginia. Other credits include the drama Speed Bump (2000), the 24 episode "Day 3: 11:00 p.m.-12:00 a.m." (2004, with Penny Johnson, Greg Ellis, Albert Hall, Zachary Quinto, Glenn Morshower, and Josh Cruze), and the short film Lychee Thieves (2009).
In 2009 Lindstrom appeared twice in J.J. Abrams' mystery drama series Lost; as crew member in the episode "Because You Left", along with Terry O'Quinn, Daniel Dae Kim, Sam Anderson, and Alan Dale, and as Dharma photographer in the episode "Namaste", with Daniel Dae Kim, Terry O'Quinn, Dan Gauthier, Patrick Fischler, and Brad William Henke.
Beside his work in front of the camera he worked as stand-in on Joss Whedon's science fiction film Serenity (2005, with fellow stand-in Danny Nero) and on two episodes of the comedy series American Body Shop (2007).
External links