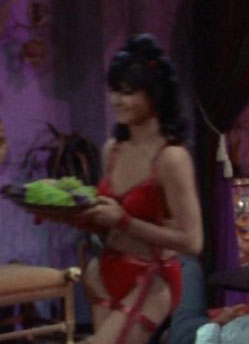 Suzanne Lodge is an actress who played an Argelian barista in the Star Trek: The Original Series episode, "Wolf in the Fold".
Lodge's most well-known role was as a "Kidnapped Batgirl" in the 1966 B-movie The Wild World of Batwoman. She also appeared sporadically in smaller roles in both films and television series, such as Jagged Edge (1985, with Michael Dorn and Biff Yeager), Man Trouble (1992, with Saul Rubinek and David Clennon) and Melrose Place.
External link
Edit
Ad blocker interference detected!
Wikia is a free-to-use site that makes money from advertising. We have a modified experience for viewers using ad blockers

Wikia is not accessible if you've made further modifications. Remove the custom ad blocker rule(s) and the page will load as expected.