For the TNG episode, see "

The Survivors

". You may also be looking for the TAS episode "

The Survivor

".
Tasha comes face-to-face with the shattered dreams of her past!
Summary
From the book jacket

Treva – a Human colony on the fringes of known space. Isolated from the rest of the galaxy, at last report they were on the verge of becoming a true interstellar community – a full-fledged member of the Federation. But now the USS Enterprise-D has received a distress signal. Treva is in the throes of a violent revolution, a revolution led by a merciless warlord who has committed countless atrocities in the name of freedom.
Data and Natasha Yar are dispatched to investigate. But once they reach Treva, they discover the truth – and any possible solution – may be more complex than a simple rebellion. For Treva's president wants more than Starfleet's good words in her fight against the rebels.
She wants their weapons. And before the battle is over, she means to get them. Over Data and Yar's dead bodies, if necessary.
Excerpts of copyrighted sources are included for review purposes only, without any intention of infringement.
Background Information
Characters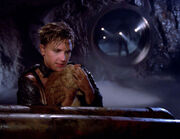 Darryl Adin

Enid Jarvis 

Captain of Starbound.

George Bosinney 

Munson 

Nalavia 

President.

T'Pelak

Forbus 

Doctor.

Erdman 

Zarsh 

Commander.

Venton Scoggins

Rikan

Sestok

Jack Henderson

T'Seya

George Bosinney

Sethan 

Helm crewperson, a Hemanite.

Nichols 

Trent 

Doctor

Sdan

Poet

Karin Orlov

Brian Hayakawa

T'Irnya

Zkun

Donal

Jokane

Droo

Barbara

Aurora

Trell

Tuuk

Gerva

Jevsithian Drominiger

Pris Shenkley

Carl Anderson 

Lieutenant.
Referred to as teacher of graduate-level courses in computer technology at the Vulcan Science Academy.
References
Brentis VI

Camelot
USS Cochrane (NCC-53918)

Federation exploratory vessel.

USS Copeland

Grokarians

Hemanites

joy dust 

Addictive substance common on New Paris colony. Tasha Yar's mother was purportedly addicted to joy dust, unable to care for her child.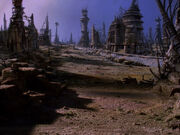 Planet where Tasha Yar was born.

"

Legacy

" revealed that the planet itself was called Turkana IV, although the colony itself might have borne a different name before the government fell.'
Nornius Beta

Omani

Oriana

USS Seeker

Starbase 18 (Starbase 18 at Memory Beta, the wiki for licensed Star Trek works)

Federation starbase. In 2360, the USS Starbound stopped at the station. At the station, the chief engineer of the Starbound told a group of Orions about the ship's cargo and destination.

See: Federation starbases.
Starbase 68

USS Starbound 

Cadet training ship under Captain Jarvis

Tarba

USS Threnody 

Scout ship, destroyed

Treva

Twenginian

Zertanians