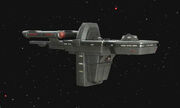 In starship classification, survey ships were specialized starships that were designed to share common features with both scouts and science vessels.
The official website for the Star Trek movie states that the USS Kelvin was used primarily as a survey vessel.
[1]
Survey vessels by race
Edit
Survey vessels by name
Edit
External link
Edit
Ad blocker interference detected!
Wikia is a free-to-use site that makes money from advertising. We have a modified experience for viewers using ad blockers

Wikia is not accessible if you've made further modifications. Remove the custom ad blocker rule(s) and the page will load as expected.