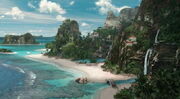 Suraya Bay was a coastal resort on the planet Risa, known for having villas built right into the cliffs.
The Risian celebration known as Lohlunat was celebrated at Suraya Bay. (ENT: "Two Days and Two Nights")
Jonathan Archer looked forward to visiting Suraya Bay during his planned shore leave to Risa in 2152 where he thought it was a perfect spot to enjoy a few good books, and perhaps do a little diving. (ENT: "Desert Crossing")
In the final draft script of "Two Days and Two Nights", an initial scene description of this area referred to it as "a spectacular coastline. A Risan bay lays before us. Quaint villas are perched on the ruggedly beautiful cliffs towering above the crashing surf. In a word, gorgeous."
Ad blocker interference detected!
Wikia is a free-to-use site that makes money from advertising. We have a modified experience for viewers using ad blockers

Wikia is not accessible if you've made further modifications. Remove the custom ad blocker rule(s) and the page will load as expected.