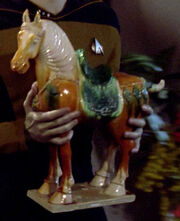 The Sung dynasty ruled China for over three hundred years until the thirteenth century when it fell to the grandson of Genghis Khan.
During a mission to Ligon II in 2364, Captain Picard presented its leader, Lutan, with a statue of a horse created during the Sung dynasty. He misidentified it as originating in the fourteenth century, but was corrected by Data. (TNG: "Code of Honor")
External link
Edit
Ad blocker interference detected!
Wikia is a free-to-use site that makes money from advertising. We have a modified experience for viewers using ad blockers

Wikia is not accessible if you've made further modifications. Remove the custom ad blocker rule(s) and the page will load as expected.