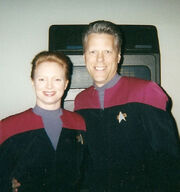 Susan "Sue" Henley, also known as Sue Rayve, is an actress who started her Star Trek connection as a regular background extra during the second season and third season of Star Trek: Deep Space Nine. With the start of Star Trek: Voyager, she tried to get the stand-in job for Genevieve Bujold, but unfortunately did not get the job. Later, thanks to her red hair, she received the stand-in position for Kate Mulgrew, who replaced Bujold as captain of Voyager after a few days of shooting. In addition, Henley appeared as regular background character Ensign Brooks throughout the seven year run of Star Trek: Voyager. Henley also served as stand-in for Gates McFadden for the feature film Star Trek: Insurrection. For most of her appearances, she received no on-screen credit.
On the set of Insurrection and Voyager she met Keith Rayve, Brent Spiner's stand-in and a regular extra, whom she married shortly after Insurrection. They have one daughter.
The character Henley in the episode "Learning Curve" was named after Henley. According to an interview with Henley, she did little background work on the first season because of her strong likeness to Mulgrew. Occasionally she wore a wig, which she described as a "hideous black dead-rat-looking wig". [1] Every time two "Janeways" are seen on screen and no computer effects were integrated, Henley served as on-screen photo double for Mulgrew, for example in the last episode "Endgame", where she replaced Admiral Kathryn Janeway in several scenes. Her costume from this episode was sold off on the It's A Wrap! sale and auction on eBay. [2]
On Friday 25 July 1997, Henley also worked as stand-in for Mulgrew for a video sequence of a Paramount Images CD-Rom video on Paramount Stage 9.
Star Trek appearances Edit
Recurring appearances
Edit
DS9

: as Starfleet officer

VOY

: as Brooks
Stand-in work
Edit
VOY

: as stand-in for Kate Mulgrew

VOY

: as stand-in for guest actors
External links
Edit
Ad blocker interference detected!
Wikia is a free-to-use site that makes money from advertising. We have a modified experience for viewers using ad blockers

Wikia is not accessible if you've made further modifications. Remove the custom ad blocker rule(s) and the page will load as expected.