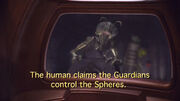 Subtitles are on-screen text most commonly used for translation purposes. In Star Trek, subtitles have often been used to translate alien languages into the viewer's language. Subtitles have also been used in DVD and Blu-ray Disc releases.
Examples of in-universe languages which have involved subtitles are:
There was some deliberation over whether a line of Russian that Chekov speaks in Star Trek III: The Search for Spock would be accompanied by a subtitle, though it ultimately wasn't. (Starlog, issue 91, p. 40)
In many of the larger foreign language areas, such as the locations where the national language is German, French, Spanish or Italian, the dialogue soundtrack of non-native television or movie broadcasts, including the (predominantly) English-language Star Trek, are traditionally replaced with a separately recorded dialogue track with local voice-actors, recorded in the respective language for airing in these regions, a process called "dubbing". Nevertheless, in smaller language areas such as the Netherlands and the Scandinavian countries, it is tradition to maintain the original dialogue track, and have them subtitled in the native language – even though dubbing is utilized for television programas aimed at the very young. Dubbing was perpetuated for the older home media format releases such as VHS, but from the LaserDisc onward, the original dialogue tracks have been maintained, with the option embedded to activate the native-language subtitles and/or, in some cases, a dubbed dialogue track.
External link
Edit