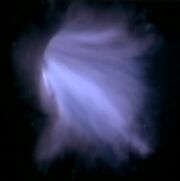 A subspace axis is a central component of the stability of a wormhole.
In 2373, two Ferengi emitted a graviton pulse near the Delta Quadrant terminus of the Barzan wormhole, an act which had the effect of knocking the wormhole off of its subspace axis, causing both ends to shift positions randomly. (VOY: "False Profits")
Ad blocker interference detected!
Wikia is a free-to-use site that makes money from advertising. We have a modified experience for viewers using ad blockers

Wikia is not accessible if you've made further modifications. Remove the custom ad blocker rule(s) and the page will load as expected.