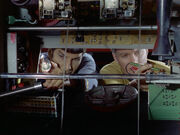 A
subsonic transmitter
was a device that could transmit sounds below the auditory threshold of the
Human
ear
.
On stardate 3417.7, Commander Spock and Captain James T. Kirk constructed such a device and installed it in the communications console of the USS Enterprise so that the signal would be broadcast to every communicator on Omicron Ceti III. The signal could not be heard, but its assault upon the nerves could be felt, like "itching powder on the skin". This sensation induced anger and violence in those who heard it, destroying the Omicron spores that were affecting the crew of the Enterprise and the residents of Omicron colony. (TOS: "This Side of Paradise")
Ad blocker interference detected!
Wikia is a free-to-use site that makes money from advertising. We have a modified experience for viewers using ad blockers

Wikia is not accessible if you've made further modifications. Remove the custom ad blocker rule(s) and the page will load as expected.