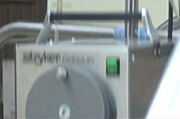 Stryker was a 20th century Earth company that specialized in the manufacture of medical equipment.
The OrthoLav was created by Stryker some time prior to 1986, when Mercy Hospital had at least one of the devices during Pavel Chekov's surgery. (Star Trek IV: The Voyage Home)
External link
Edit
Ad blocker interference detected!
Wikia is a free-to-use site that makes money from advertising. We have a modified experience for viewers using ad blockers

Wikia is not accessible if you've made further modifications. Remove the custom ad blocker rule(s) and the page will load as expected.