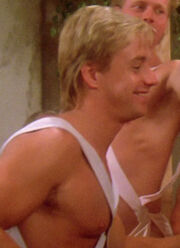 Steven Craig (14 December 1958 – 13 September 1990; age 31) was an actor who had a featured part as an Edo in the Star Trek: The Next Generation first season episode "Justice". Footage from his appearance was later reused in the second season episode "Shades of Gray".
Born as George Joseph Dufour, Jr. in Exeter, New Hampshire he appeared in the August 1988 edition of the adult magazine "Playgirl". Craig also worked on a number of adult movies between 1985 and 1989. [1]
He died in 1990 in Ellenton, Florida due to complications from AIDS.
External link
Edit
Ad blocker interference detected!
Wikia is a free-to-use site that makes money from advertising. We have a modified experience for viewers using ad blockers

Wikia is not accessible if you've made further modifications. Remove the custom ad blocker rule(s) and the page will load as expected.